One of the best things to do in Key West is to get on the water. Take it from us; it's pretty much impossible to resist the teal blue, sparkling water of the Florida Keys. The beaches in Key West are nice…but it's all about renting a kayak or booking a boat charter to experience a different type of fun in the sun.
But before you set sail on a Key West boat charter, it's important to make sure you've packed everything you need to make the most of your day on the water. Whether you're a seasoned sailor or a first-time seafarer, this guide will help you pack like a pro and ensure you have a day to remember!
Sunscreen
Wearing sunscreen in Key West is like wearing underwear. You'll notice when you forget to wear it…and not in a good way. Because the Florida Keys are closer to the equator than other parts of the United States, the sun's rays are stronger and more harmful. Bring SPF 50, water-resistant sunscreen with you on your Key West boat charter. Major bonus points if it's a reef-safe brand, such as Maui Naturals, Blue Lizard Sensitive Mineral Sunscreen, or Kokua Sun Care. Seriously, set a reminder on your phone or put a sticky note on the vanity; do whatever you need to do to remind yourself to bring sunscreen on the boat.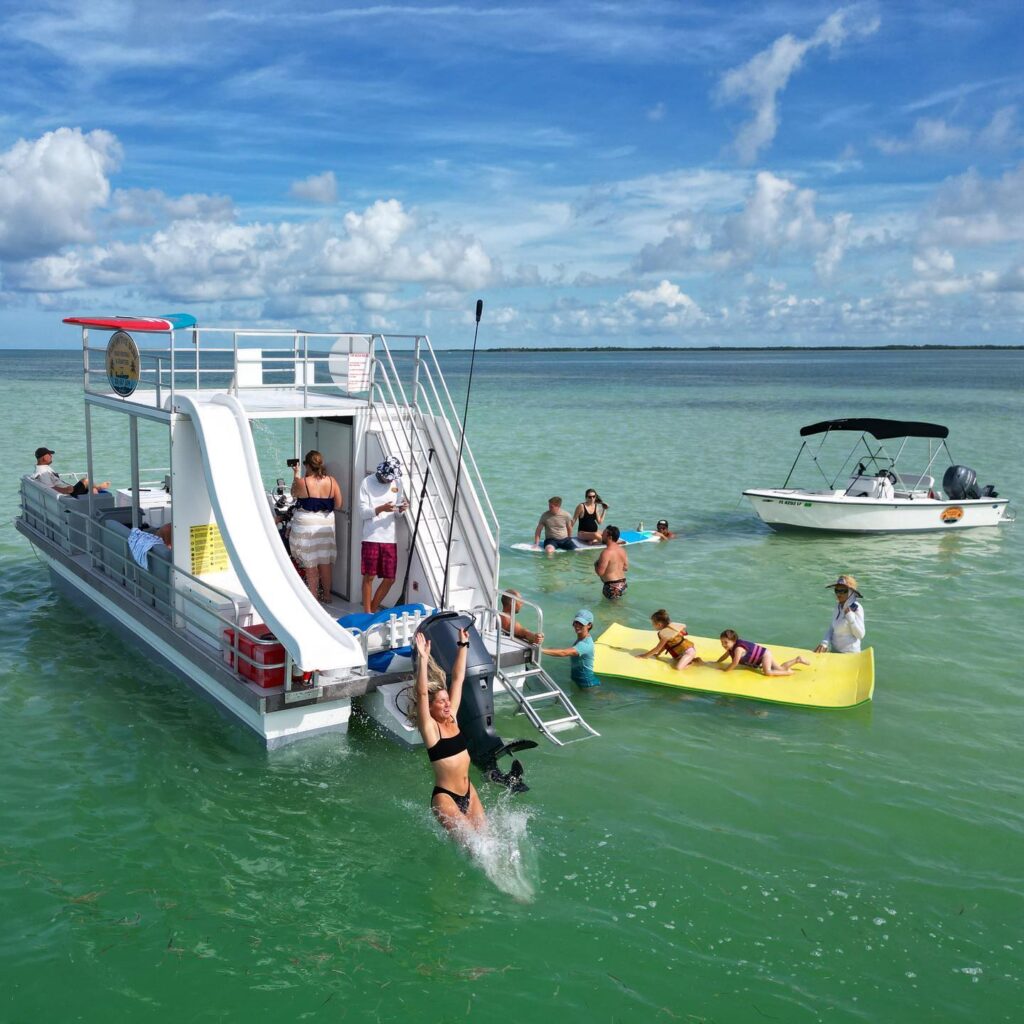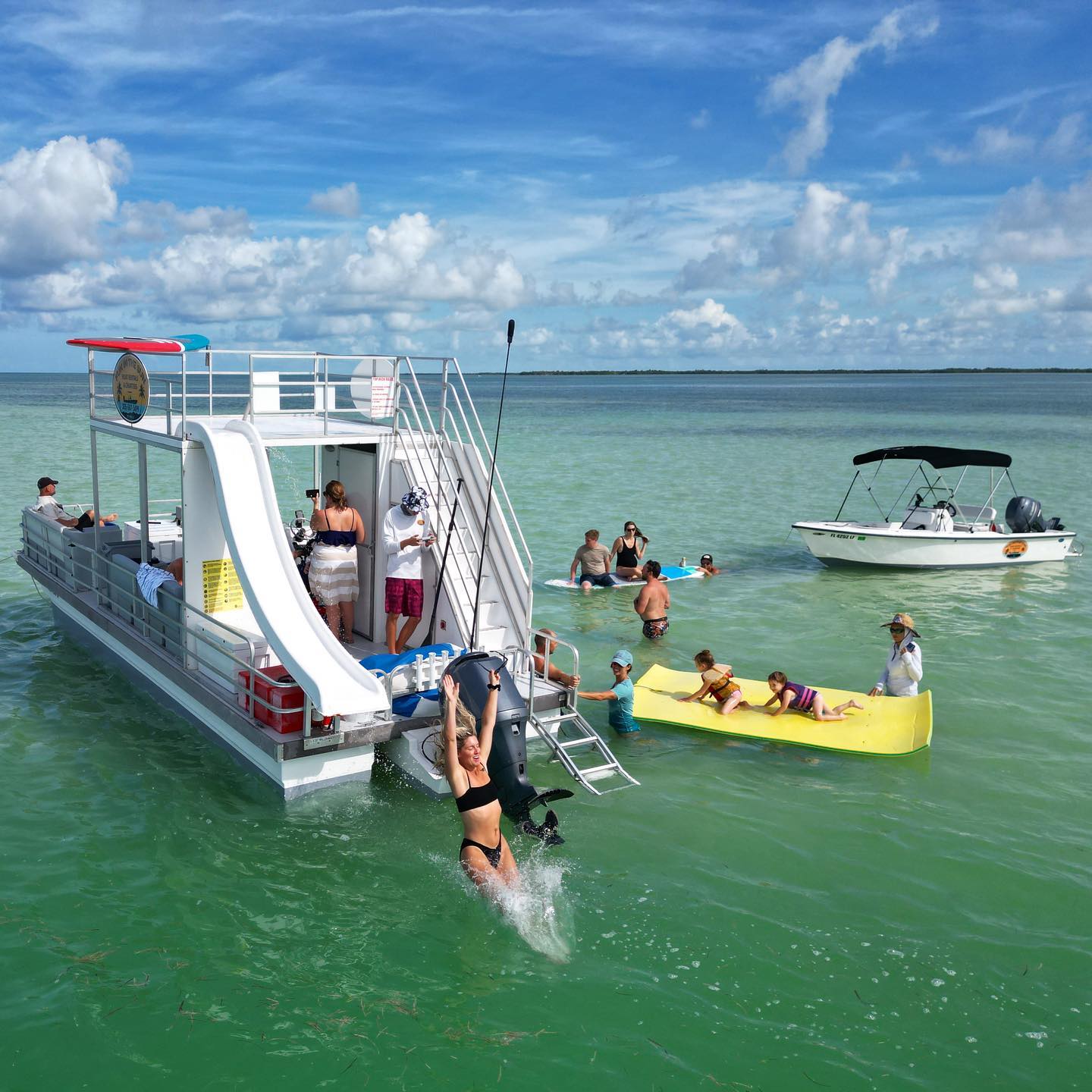 Hat + Sunglasses
While we're on the topic of sun protection, don't forget to pack a hat and sunglasses. We recommend a wide-brimmed hat for additional sun protection over the face, neck, and ears. And if you have polarized sunglasses, that will help reduce glare from the ocean and protect eyes from harmful UV rays. If you're with a big group, have fun with it! Matching hats or sunglasses will make your boat charter experience that much more exciting.
Bathing Suit + Beach Towels
As we said, it's almost impossible to resist the sparkling waters off the coast of Key West. Once you get out there, you'll want to jump right in! Remember to bring or wear a bathing suit on your Key West boat charter. It doesn't matter if it's a sandbar charter, bareboat charter, or yacht charter, wear something that you're comfortable with getting wet. Plus, a towel for drying off.
Protective Clothing
UV shirts are practically a uniform in the Florida Keys. The long sleeve, moisture-wicking, lightweight shirts combat the elements and offer extra sun protection. Some gear comes with UPF 50+ UV solar protection built into it! If you're unsure where to find UV shirts in Key West, check out Shrimp Road Surf Co. A portion of each purchase from the store is donated to a local ocean conservation organization called Reef Relief.
Dry Bag
It's easy to want to bring a lot of things with you on a boat charter, but sometimes less is more. Seriously, you won't need to bring too much with you to rent a boat in Key West. Especially with Fun in the Sun as we provide extra gear and bottled water, depending on the type of charter. We recommend taking a dry bag with you to keep personal items like phones, keys, and wallets safe and dry.
Extra Food, Drinks, and Toys
At Fun in the Sun, we provide bottled water, snorkel gear, floats, fishing rods, lobster equipment, and bait, depending on your charter. We offer sandbar trips, eco-tours, dolphin watching, fishing, lobstering (in season), snorkeling, and more. So our boat tours are catered toward the activity. If there's something you really want to bring, such as an inflatable tube or pool noodles, go for it! You can also bring extra food and drinks for your day on the water.
What Not To Pack
Now that you have the essentials for a Key West boat charter, we want to quickly mention what to leave at home. We highly recommend not bringing valuables with you on your charter, such as jewelry or expensive electronics. It's not worth losing or damaging these items. Also, please don't bring any glass bottles on the boat with you as it's a safety hazard for all passengers.
Use this packing list as a guide for your next boat charter. Fun in the Sun offers a variety of boat charters and water activities in Key West. Whether you want to go snorkeling, kayaking, dolphin watching, fishing, or sandbar hopping, we can create a customized boat charter for you.