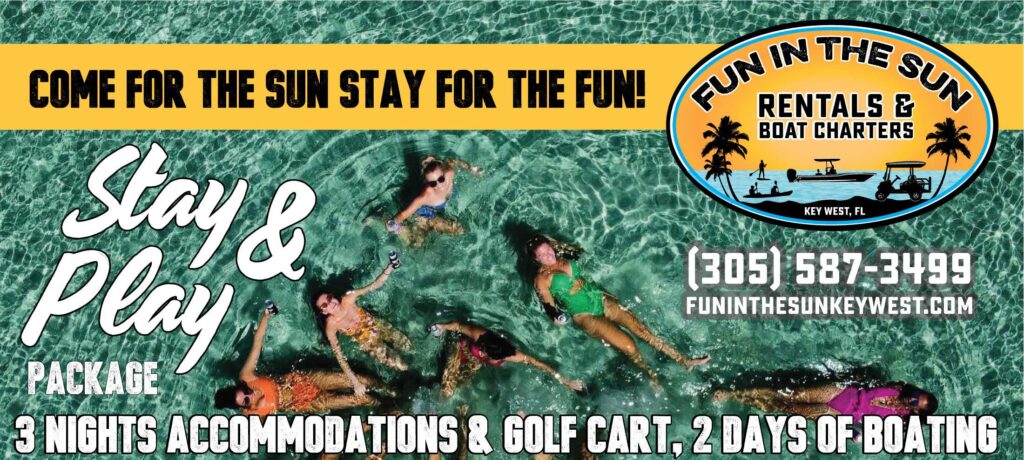 Introducing our exciting new vacation package that promises relaxation and adventure – a private yacht stay with Fun in The Sun in Key West! Everything you've been dreaming of for a fantastic getaway is bundled into this package, leaving you with just one simple task – getting here. Let's dive into the incredible details of this unforgettable experience!
3-Night Dockside Stay:
Unwind and immerse yourself in the charm of Key West with a 3-night stay on your very own private yacht. Picture yourself waking up to gentle sea breezes and mesmerizing water views at your doorstep.
Luxury Boating:
Embark on 2-3 days of pure fun in the sun as you set off on your choice of premium boat charters. Pick from our Luxury Center Console 36′ Invincible with triple engines, the 43′ Luxury Charter Boat The Lisa Lynn, or our 30′ pontoon with water slide (can choose 2-3 days depending on lengths and boat choices). Cruise through the crystal-clear waters of Key West, exploring hidden sandbars, vibrant coral reefs, and stunning backcountry locations. Or test your fishing skills on an exciting offshore fishing trip. Our experienced crew will ensure your every need is catered to, making your boating adventure an experience to cherish.
Street Legal Golf Cart:
From the moment you check in until it's time to say goodbye, we've got your transportation covered. Enjoy the convenience of a street-legal golf cart to explore the island at your leisure. Zip around Key West, uncovering its vibrant culture, delectable cuisine, and charming streets, all on your own terms.
Kayak & Paddleboard Rentals
Included in your package is 1 HR of Kayak or Paddleboard Rentals for everyone in your group. Join us for a paddle at our Capitana Resort Paddle Hut. You can explore the local mangroves and cruise the grass flats looking for marine life. This is one of the most relaxing ways to spend an afternoon or morning in Key West.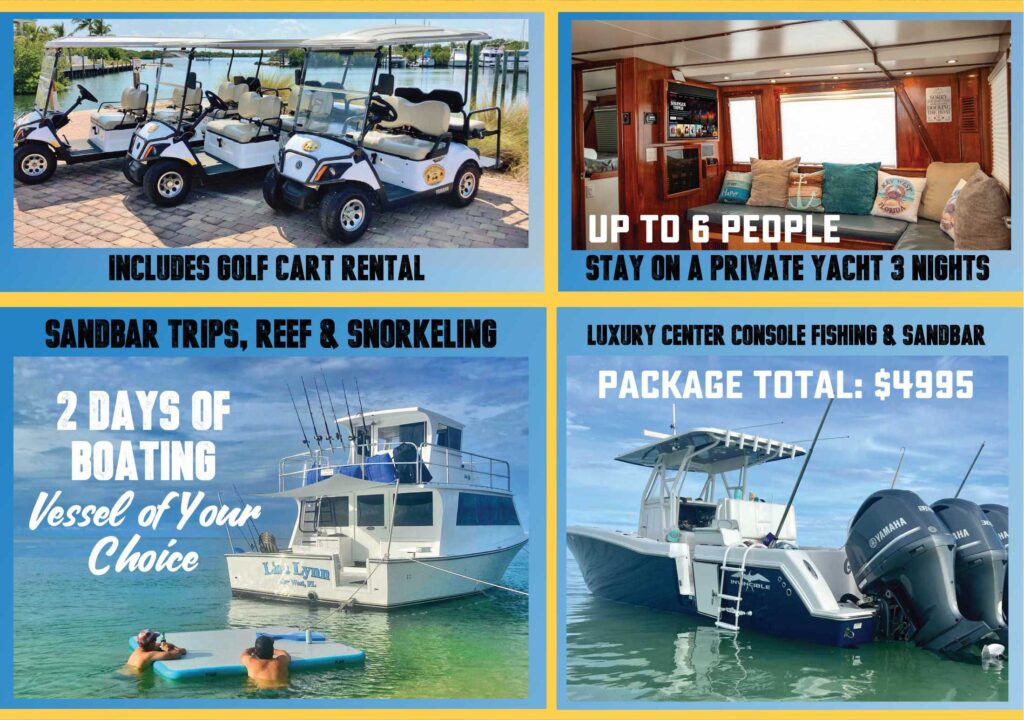 All-Inclusive Price:
All of this luxury and convenience is wrapped up in an unbeatable price of $4995. It's the ultimate value for a group of up to 6 people, ensuring that you and your loved ones create memories to last a lifetime.
Call or Text for More Details: Don't let this extraordinary experience slip through your fingers.
Our team is here to answer any questions and help you plan the vacation of your dreams. Key West is waiting to welcome you to its paradise, and with Fun in The Sun, your stay will be an incredible blend of relaxation and adventure. Pack your bags and leave the rest to us – your idyllic Key West getaway is just a call or text away!
For more information, trip details and to reserve your private yacht stay with Fun in The Sun, call or text us at 305-587-3499.